Packages
Our packages include everything you need to make your wedding day a huge success. All furniture, staff and dinnerware are included. We give you access before your guests arrive and can even arrange for Monday am pick up for any items you wish to leave behind after your wedding with us. (No other venue will offer you this service). Our in-house lighting and beautiful ambiance means you do not need to spend additionally for decor.
Add to that the ability to supply your own beverages with no extra fees, and you will see how affordable your Canvas Montreal wedding will be. And with no administration fee, no corkage fee, no cake-cutting fee or other hidden costs, calculating your wedding budget with us is easy.
What's included?
At Canvas Montreal, we do everything possible to make booking with us as easy as it can be.
Our all-inclusive packages include:
Bring in your own alcohol + beverages (We supply bartenders, glassware and ice)
Customized Menu of your choice. (We work with you to create your final menu)
All furniture and dinnerware (Tables, chairs, linens, glassware, flatware, silverware)
Ambient lighting (Chandeliers and down-lighting)
Use of our 100% private loft venue (Last call at 2:00 AM)
Early set up on day before your wedding. (Whenever possible)
Monday AM pick up of items.
Free coatcheck
Access to a 60" Smart TV
NO additional fees for: (Corkage, cake-cutting or administration)
Maximum guest list: 120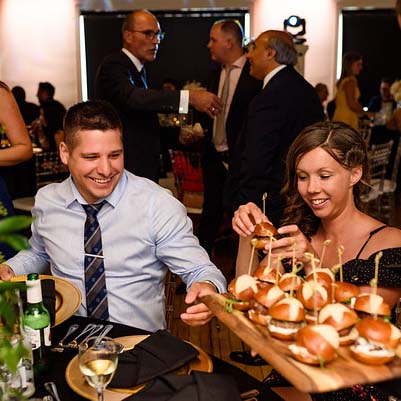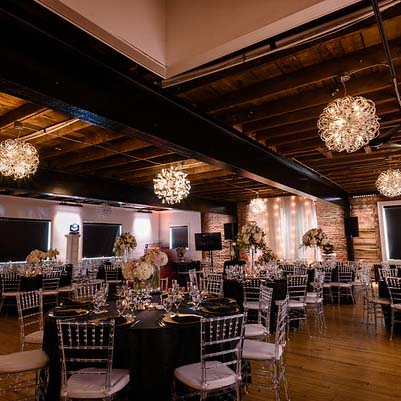 Adding to your special day
Our packages cover everything you'll need to have a wedding to remember.
For the little extras, we have vendors that we have worked with for over 15 years that we highly recommend. Not just because we know them, but because they do great work and can be trusted to help you plan the perfect day. See the list below for some suppliers to call for all your planning needs.
Florist:
Flowers by Amanda
514.831.3595
Wedding planner / decor:
A timeless celebration
514.667.8671 | atimelesscelebration.com/
Videographer:
Eva Films
450 821 9004
EvaFilms.ca

Photographer:
Esther Gibbons Photography
514-432-0273
www.esthergibbons.com

Photobooth:
Omira Photobooth
www.omiraphotobooth.com

DJ:
DJ Universal Entertainment inc
514.808.6767
www.djuniversal.ca
info@djuniversal.ca

From your first to last call
From the first time you talk with us, until your last guest has danced their last dance, Canvas staff will help with everything along the way.
Please refer to our FAQ section for answers on more of your questions. Or simply call or send us an information request. We'll be happy to answer any questions you might have.